Drainage System for Low-level Thresholds
Aludrain is the perfect solution to your Low Level Threshold drainage needs providing excellent, fast and simple drainage. Providing easy accessibility for wheelchairs and having the added safety of its Anti-slip surface.
Aludrain meets all regulatory requirements for a well-drained and vented area in front of Low Level Thresholds. It is suitable for all residential, commercial and industrial entrances where LLT drainage is needed.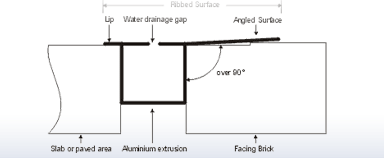 Flush Floor Ducting for Pipes & Cables
ALUDUCT has been specifically designed for carrying water supply and central heating pipework in floating and cement screed floors.
Manufactured in aluminium, 2mm thick, ALUDUCT is immensely strong and easy to work with. Complies fully with Water Authority Bylaw 58, providing easy access to pipework at all times, for testing and inspection.