Drainage System for Low-level Thresholds
ALUDRAIN provides excellent drainage and easy accessibility for wheelchairs. Anti-slip surface for added safety. Complies with building regulations for a drained, vented area in front of low level thresholds. Suitable for all commercial and industrial use.

Some key reasons why ALUDRAIN is the best choice solution for all Low Level Threshold projects no matter what the building:
•    Aludrain meets all regulatory requirements for low level threshold drainage
•    Fast, easy and cost effective installation, no specialist knowledge needed
•    Easy & safe wheelchair accessibility
•    Aludrain can be retro-fitted into existing properties easily & quickly
•    Aludrain is suitable for all residential, commercial and industrial entrances where low level threshold drainage is needed
•    The Aludrain product is maintenance free and made using high quality aluminium extrusion
•    A one-piece solution meaning that water only goes where you want it to
•    A stylish finish with long lasting appearance using Aludrain's unique anodised aluminium design
•    Aludrain will fit any size threshold old and new
•    Aludrain can be fitted quickly and simply to any exterior surface
•    An anti-slip surface means that only Aludrain has this added safety feature
•    Aludrain can be supplied pre-cut to any length you require
•    Aludrain is supplied in std 3m lengths if no specific length is requested
•    Aludrain is available in 2 convenient widths (130mm & 185mm)  
•    Can be supplied with multi-purpose polypipe drainage junctions and stop ends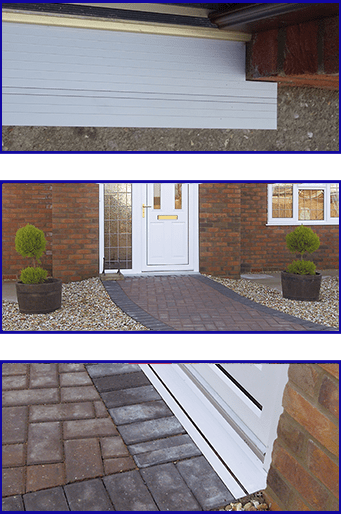 Aludrain – a simple, fast, cost effective and safe solution for Low Level Threshold Drainage.